Massage Therapy in Hamburg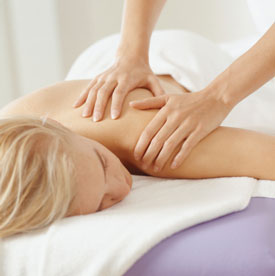 Whether stress has you in need of tension-taming or your muscle aches are preventing you from participating in your favorite activities, massage can help. The benefits of massage are available to Chiropractic Health Center of Hamburg patients as well as the general public by appointment with our Certified Massage Therapist (CMT) Ashley Karas.
Works in conjunction with other therapies to expedite healing of injuries
Relaxes tight muscles and improves range of motion
Reduces trigger points and increases pliability of scar tissue
Improves blood and lymph circulation
Reduces muscle fatigue and tension providing relaxation and stress relief
Whether you want to untangle those jangled nerves or experience soothing relief from aches and pains, massage therapy can help you feel great!
To book your massage therapy appointment, please call Ashley Karas at (973) 827-8150.

Massage Therapy Hamburg, Vernon, Franklin, Sussex NJ | (973) 827-8150