Meet Dr. Peter Karas
A Career Changing Experience With Chiropractic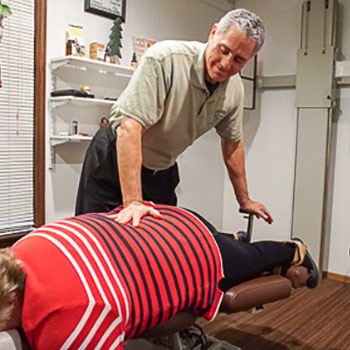 While in college, Dr. Karas was a biology major with a goal of either premed or the dental field. It was during a weight lifting session at the gym that his future changed direction. "I hurt my back and went to a Chiropractor at the suggestion of a friend. I was amazed that after just one adjustment, my back pain was gone!" He investigated Chiropractic further and decided on his career choice, helping people without the use of drugs or surgery.
After graduating from Fairleigh Dickinson University, Dr. Karas applied to and began his Chiropractic education at New York Chiropractic College. "Most people don't realize how intensive a Chiropractor's education is. We spend four years studying anatomy, biochemistry, human physiology, diagnosis, X-ray and Chiropractic techniques on a graduate level."
After his graduation in 1981, Dr. Karas began his career at Totowa Chiropractic Center with Dr. Anthony Amato. There he gained a wealth of experience, later deciding to branch out on his own in Hamburg.
Always Updating Our Skills
There is no other Chiropractor in Sussex County that has more experience treating patients. He estimates he has treated at least 6,000 patients over the last 35 years. That, however, does not stop him from further increasing his skills with continuing education courses on Sports Rehabilitation and Nutrition.
New information continues coming out on sports and nutrition and we stay on top of it.
Dr. Karas is a member of the Association of New Jersey Chiropractors, Nutritional Education Council, and a past member of the Hamburg Planning and Board of Health.
Practicing a Healthy Lifestyle
Dr. Karas decided on Hamburg as the site to open his practice because it was a growing community in picturesque Sussex County. His children have grown up here, attending our local schools. Ashley, his older daughter, is the massage therapist at Chiropractic Health Center of Hamburg. His youngest daughter Brittany is currently studying to obtain her doctorate in Toxicology at Rutgers University.
Exercise has been a big part of Dr. Karas' life from competitive swimming and football in his teens to presently working out in the gym and riding his bike. He works out two to three days a week at the local YMCA in Hardyston keeping up on his cardio and strength training. "I constantly run into patients at the Y and go over different exercises, the correct way to use the equipment, and nutritional tips."
In his spare time Dr. Karas does the gardening at the office and "attempts to improve playing his saxophone."
Contact our friendly, helpful team today to schedule your appointment! Insurance coverage can be used for your visits.

Dr. Peter Karas | (973) 827-8150