New Patients
Our caring knowledgeable team is here to help you – from filling out your insurance and health intake forms to obtaining your health goals. We offer calm and private surroundings during your consultation and treatment and we pride ourselves on being prompt and seeing our patients at their appointed time. We know how important your time is. If you have any recent X-rays, MRIs, or CAT Scans please bring them or the reports in with you. We accept Blue Cross Blue Shield, Cigna, Aetna, AmeriHealth, Magna Care, QualCare, and Medicare.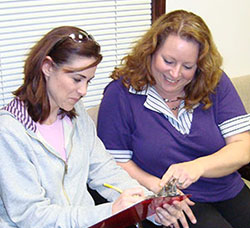 Getting Started
If you have insurance please bring your insurance card. If you have been referred by your doctor, please bring your referral as well. After filling out your case history the doctor will go over it with you.
Next we perform a thorough Chiropractic, Orthopedic, and Neurological exam. We now offer digital X-rays, which may be taken if needed. Dr. Karas will determine if a treatment can be performed at this visit. This may include heat packs and muscle stimulation and then a gentle Chiropractic adjustment.
First visit take about 1 hour.
---
Follow Up
At your next visit, we'll review your consultation and exam with you and set up up on a treatment plan for your condition. You decide on your goals to obtain relief care, corrective care and maintenance care. We will provide you with ways to help yourself at home and work including dos and don'ts, easy stretching and strengthening exercises, proper standing, lifting, sitting, reaching and sleeping and the use of ice or heat.
Our office staff will review your financial responsibilities with you. Our goal is to provide you with a happy healthy experience not only for today, but for your future Chiropractic needs as well.
---
Continuing Care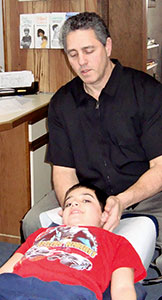 Your regular Chiropractic treatment will take from 15-20 minutes to up to 45 minutes depending on the type of therapy we are providing.
We do not overbook, ensuring that we make every effort to see you at your scheduled treatment time. When you arrive at our office, we want to relax and de-stress so you can get the most benefit from your adjustment. Keeping to your treatment plan schedule will give your body the best chance for recovery from your condition.
Do I Have To Keep Going After I Feel Better?
The type of care you receive is entirely up to you. You can decide on just relief care which may only take a few treatments, or corrective and maintenance care which will take longer but will make more lasting therapeutic changes to your muscles, ligaments and joints. You pick the care plan- we do not lock you into a long term expensive care plan.
We accept insurance coverage and offer convenient free parking. Contact us today to find out what we can do for you!

Chiropractic Health Center of Hamburg | (973) 827-8150